Tourist Hot Spots
Tourist Hot Spots in Alexandria, Virginia
Historically, the city of Alexandria in the northern part of Virginia played a salient role in U.S. history, particularly during the Revolutionary War and Civil War. It is no wonder that this charming city is home to several historical sites and prominent colonial structures that are a must-see for anyone who visits the place.
A significant landmark that served as the venue for political gatherings during the American colonial and revolutionary years is Gadsby's Tavern. What makes this place considerably famous is the fact that notable guests like James Madison, George Washington and Thomas Jefferson had stayed here while they were on travel.
Dubbed as "America's First Family Home," Woodlawn is another famous landmark in Alexandria. Woodlawn, which was actually George Washington's bequest for his nephew, was also the first estate of the National Trust.
Christ Church is another remarkable landmark in this momentous city. This minster, which is one of the biggest Episcopal churches in the U.S., had churched various U.S. presidents including George Washington.
The Alexandria National Cemetery is where the tombs of 3,500 soldiers who died during the Civil War are contained. The George Washington Masonic Memorial is another city site that will surely excite the curiosity of tourists.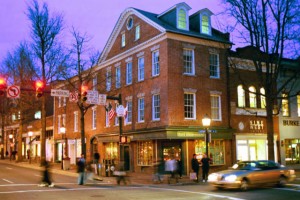 A former military installation and the fifth largest fortress during the American Civil War, Fort Ward is a well-preserved historic site with most of its stone walls still intact. Fort Ward is now a division of the Fort Ward Museum and Historic Site which also provides a war library and revolving displays of the American Civil War; a restructured stronghold; a museum; a ceremonial gate; and a guard house.
Other well-known attractions in Alexandria include the Frank Lloyd Wright Pope-Leighey House, which is regarded as an innovative architectural site; the Carlyle House, which is a reconstructed Georgian manor in 18th-century design and the former home of John Carlyle, a pillar citizen of Alexandria; the Old Town Theater; and the Ramsey House, which is a famed ghost house that is now turned into a tourist center.
Complementing Alexandria's wide array of historical hot spots are the numerous accommodation options that cater to varied tastes and budgets of tourists ranging from colonial style lodges to amiable bed and breakfasts.
Indeed, the city of Alexandria is another great city waiting to be experienced, explored and appreciated for its history as well as artistry. A visit in Alexandria is a definite learning experience.